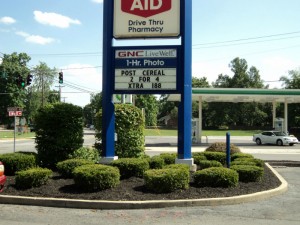 When it comes to the landscape of your office, business, complex, or athletic field you want every inch of property looking pristine and professional. Whether you need a landscape designer or a periodical property maintenance schedule we can help. The lawn and landscape that surrounds your office or business property is the first thing potential business prospects see, and can make a big difference when attracting a customer or client.
Serving Your Commercial Property Needs in Bowling Green KY

At Ardon Lawns & Landscapes, we understand that the landscape needs of businesses and larger properties require a bit more attention than those of your average backyard. We specialize in designing and creating large scale landscapes for businesses and properties and can accommodate your precise landscape needs regardless of size and space.
Ardon Lawns & Landscapes group of landscape designers have a tremendous array of tools and experience at our disposal. From simple property maintenance to elaborate floral displays, we can design and create it for you with a measure of quality that's unparalleled by the competition. We've helped turn numerous properties in Bowling Green KY and surrounding areas into gorgeous landscapes and are eager to transform your ordinary commercial lawn into a well groomed landscape.
– Athletic Fields
– Apartment Complex's
– Rental Properties
– Industrial Campuses
The Team to Trust in Bowling Green KY

Ardon Lawns and Landscapes is fully licensed and insured and has the capacity to handle all your commercial and corporate landscape needs. We will assess your property and offer you a fare and reasonable estimate. At Ardon Lawns & Landscapes, we stand behind our quotes and will never tack on any hidden fees or extras.
Turn your ordinary commercial landscape into a thing of beauty. Call a Bowling Green commercial landscaper you can trust and receive a free estimate!