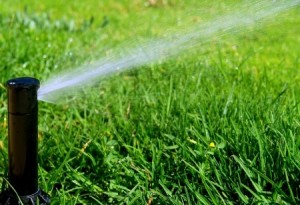 Proper irrigation systems provide for a more beautiful and inviting yard.  Without this, the heat from our summers coupled with inconsistent  (and sometimes nonexistent) Kentucky rains results in a dry, dying lawn.
Don't let your Bowling Green lawn fall victim to a lack of water.  Our irrigation systems provide the ease and convenience you're looking for.
Our professional sprinkler systems include:
Installations
From complex system installation to the most basic residential sprinkler system, ARDON Lawns & Landscapes provides quality, state-of- the-art irrigation systems. Our system design and commercial grade product combined with proper installation assure you a carefree watering system to beautify your lawn and shrubs whether home or away. Nothing can do as much to insure the continued prospering of your landscape, as well as minimize maintenance time and costs, as a sprinkler system that has been properly designed and installed. Our competence in design and proper selection of commercial grade product assures you a carefree watering system that will beautify your lawn and shrubs for years. If you have an existing sprinkler system we can also renovate or upgrade it, making it operate at peak efficiency. We can automate your system so that it won't run during a rain storm or when the weather conditions are too cold."
Spring Startup
This is to ensure proper controller operation, sprayer & rotor functioning, and valve operation, correct watering times and cycles.
Winterization
This is very important. Often times irrigation systems are not installed properly due to lack of depth into the soil. This will result in busted valves and lines. Short end of the story…..this is can be very costly and expensive to repair. We blow out the remaining water with compressed air so that no volume of water is retained in the irrigation water lines through the winter.